O'Neill: Van Persie, Messi-nya MU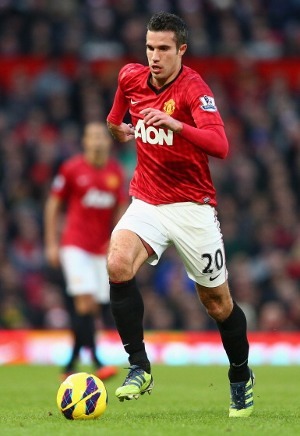 Robin van Persie langsung menjadi pemain penting bagi Manchester United sejak direkrut dari Arsenal awal musim ini. Ia bahkan sampai disebut sebagai 'Lionel Messi-nya' The Red Devils.
Van Persie membuktikan diri layak dibeli mahal MU dari The Gunners. Pemain yang dibanderol senilai 24 juta poundsterling itu kini menjadi top skorer sementara 'Setan Merah' di Liga Inggris dengan torehan 12 gol dari 17 kali bermain.
Gol terakhir Van Persie di Liga Inggris dicetak saat MU menang 3-1 atas Sunderland di Old Trafford, Sabtu (15/12/2012). Ia mencetak gol pembuka tim besutan Sir Alex Ferguson itu ke gawang The Black Cats.
Ketajaman Van Persie itu lantas menimbulkan kesan bahwa MU kini memiliki ketergantungan padanya. Manajer Sunderland, Martin O'Neill, sampai-sampai menilai kontribusi penyerang 29 tahun itu bagi tim layaknya peran Messi di Barcelona.
"Dengan pemain sekaliber Van Persie di kubu Anda, maka Anda selalu memiliki kesempatan untuk memenangi pertandingan," ujar O'Neill seperti dilansir The Sun.
"Seperti Barcelona memiliki pengaruh yang sama jika Lionel Messi tidak bermain."
"Jumlah gol yang dicetak oleh Messi sungguh luar biasa. Mereka adalah tim yang bertalenta, tapi tanpa dia Anda bisa tidak tahu (hasil pertandingan), karena Messi adalah jimat mereka."
"Sejujurnya Van Persie memang mencetak gol lebih sedikit. Sepertinya tidak ada yang terjadi dan Anda mempunyai pemain yang berada di satu area. Tapi, tiba-tiba dia membuat satu perbedaan," imbuh manajer asal Irlandia Utara itu.
Secara keseluruhan Van Persie sudah bermain sebanyak 21 kali bersama MU di semua ajang dengan sumbangan sebanyak 15 gol.
12BET